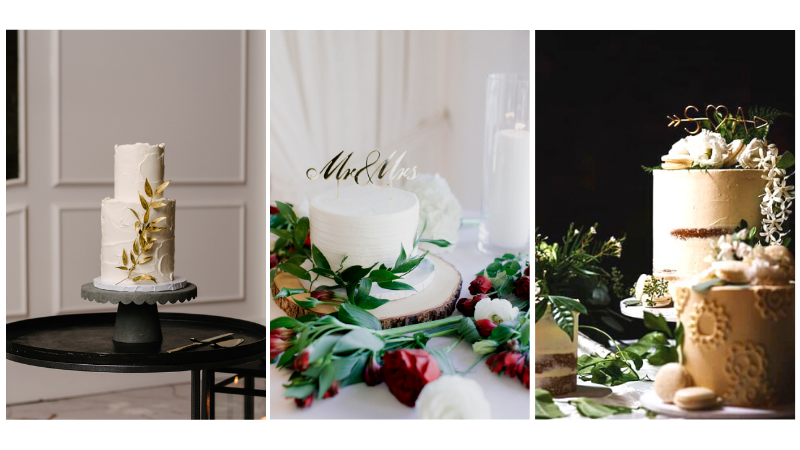 Sometimes the most challenging part of planning a wedding or any large event is figuring out everything you don't know!
Our goal is to ensure that you have all of the information you need to make all decisions regarding your sweet treat as low-stress as possible! Whether you want a cake, macaron favours, customized cookies, or a dessert table to rival all others – we've got you covered.
So here it is! The ultimate "What do I need to know before booking LenJo Bakes for my wedding?" guide. You can also refer to our page on bespoke cakes for general information on ordering with us. This is where you can find more information about the flavours and sizes we offer and more!
What is the first question to ask when choosing a wedding cake designer/shop?
"Do previous product examples represent what I want for my wedding?"
This is the most important question to ask because if the answer is no, then you can move along to the next option! Budget, flavours, availability – none of that matters if your vision for what you want doesn't align with what can be offered.
For example, we're 100% team buttercream (Swiss meringue, to be specific) here at LenJo Bakes. If you want the look of a fondant covered cake, we wouldn't be able to help fulfill your vision.
We've written a blog post detailing the 5 things you should consider when choosing a cake designer.
What is a reasonable budget?
The one you come up with!
You have a whole life to live (and pay for) after your wedding day. Set a budget that works for you and your needs – then stick to it.
There may be ways to reduce costs (like choosing cupcakes vs a cake which needs to be cut*), but most shops will have a base budget available to help guide your pricing expectations.
You can find a bit more info on costs on our bespoke cakes page.
*Venues may charge a cake cutting fee – best to ask if applicable for you!
How much cake is enough cake?
We recommend catering for 80% of your guests to have cake. After a full day of eating, drinking, and dancing – some guests might not even have cake on their radar! The last thing you want is to have heaps of cake left over and no one to eat it.
If you're concerned that your cake won't look big enough in photos – don't be! Even small cakes look beautiful. Consider this 4″, 6″ extra tall cake that we made for Kendra and Spencer at the Elora Mill.
She is small, but she is mighty! With approximately 26 servings you would never know she was a petite cake just by looking at this photo. Perspective is everything.
You can find out more about the sizes we offer here!
What if I want a dessert table or customized favours?
You can have that!
We've done customized sugar cookies, macaron duos, individually packaged brownies, and more as wedding favours.
We've also set up a few dessert tables that feature an array* of the treats we offer in the shop: French macarons, squares, cookies, and more!
*There may be a minimum order for customized favours or sweet treats.
Do you offer cake tastings?
We do! With a bit of a twist.
Every quarter we offer a cake tasting box with set flavours. These flavours are typically seasonal and may be a little outside the "norm" of cake offerings.
One of our recent boxes featured:
matcha cake with matcha buttercream and blackberry compote
vanilla cake with mocha buttercream and salted caramel
Meyer lemon cake with elderflower buttercream and Meyer lemon curd
chocolate cake with malted milk buttercream
Each box is $40 and must be pre-ordered through our website or in-store (they sell out quickly!). Keep an eye out on Instagram and Facebook to know when the next box is being released! Alternately, you can sign up here to be added to our mailing list to get a heads up on the flavours and release date of the next box!
…what if I don't want a cake or cupcakes and instead want a tower of cinnamon rolls?
The world is your oyster and it's your wedding. You can do whatever you want ❤
Want some more info?
We've written a couple of pieces about cake sizes, stands, and flavours. We're always keen to hear what you want to know about so reach out and let us know if there's something else wedding related that we can write about.
Take a look at our wedding gallery to check out some of the work we've done in the past to see if you feel inspired! You can also see images of our work on our Instagram page too.
If you're ready to book, head to our availability calendar to check your date, and schedule a consult with us!