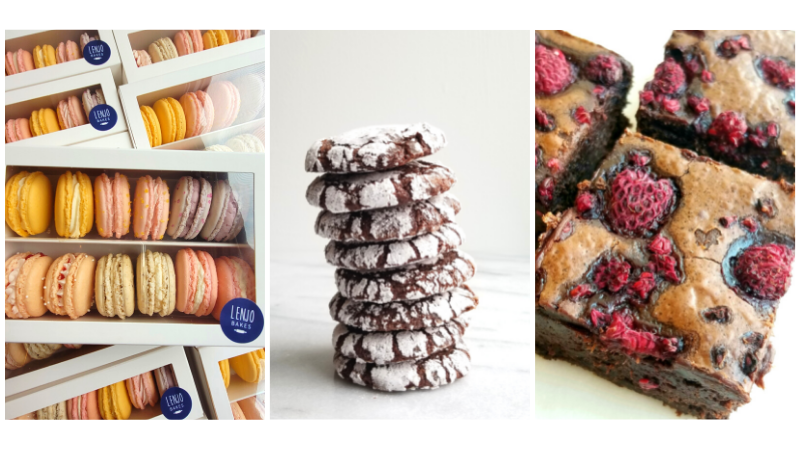 Although our main business is designing and crafting bespoke cakes for all occasions, we wanted to create a way to provide delicious treats to our community on a weekly basis! You can visit our online shop to pre-order sweet treats for pick up on Thursdays, Fridays, and/or Saturdays.
Below you'll find our most frequently asked questions related to our retail shop!
What are your hours?
Our retail shop is open with an ever-changing menu of cinnamon rolls, cookies, brownies, macarons, and verrines. You can order online for pick up of some of our more popular items from our online shop too! (And then see what else we have in store to add on 😉). Our current hours are best found on Google! If there are any changes to our hours, we always put them on Google first.
Wait. What is a verrine?
A verrine is a dessert that is served in some sort of glass vessel. (Verre means glass in French.)
We use cute jars! You can take them home and enjoy your dessert. When you bring them back (clean and with their lid*, please!) you'll get $0.50 off your next purchase! So these verrines are good for you and the environment. Single use plastic? We don't know her!
*Please note each jar is washed and sanitized by us after it's returned. We just don't want to deal with mouldy jars – yuck!
What about something to drink?
We offer a Kiwi-style coffee menu! Lenore studied to become a barista and worked as one part-time during her time in New Zealand. She loved the experience so much, she wanted to bring that coffee culture back home.
All of our coffee beans are single origin from Smile Tiger Coffee Roasters and all of our drinks feature double shots of espresso.
Our list of bevvies include: long black, flat white, cappuccino, latte, mochaccino, hot chocolate*, loose leaf teas, and tea lattes.
We offer Earth's Own oat milk as our dairy alternative…actually, our everything alternative! Lactose free, gluten free, nut free, soy free, carrageenan free, glyphosate free, and made with Canadian grown oats it's the perfect solution for those for whom traditional dairy is not an option. Bonus is: it tastes great!
Bring your reusable cup to save some $$$ and the planet!
*Our hot chocolate can be made completely dairy free because our mix is made in house. Premium cocoa powder, organic golden sugar, and kosher salt – that's it!
I am *insert dietary restriction*. What can I eat?
We try our best to have a few gluten-free options in the shop at all times including at least one dairy-free macaron (all of our macarons are gluten-free).
Although we try our best to cater to as many restrictions as possible, we cannot guarantee that any item is completely allergen-free.
We don't offer any vegan or egg-free products at this time.
Are you a peanut-free facility?
Yes! While we use tree nuts, we don't have any peanuts or products containing peanuts on site.
What methods of payment do you accept?
Visa, Mastercard, American Express, Interac Flash, Apple Pay, Android Pay, and good ol' cash monies.
We're trying to do our part environmentally, so while we would prefer to refrain from printing a paper receipt from you, you can enter your email address or phone number to have one sent electronically.
Is there space to sit?
We used to have a window bar with 6 stools at the front so you could people watch while you enjoyed your treats. Then the pandemic came and we replaced the stools with plants…
In warmer weather we have a few porch tables and chairs under our overhand out front. (It's a porch, not a patio. Patios require permits.) We also have a couple of benches along the side of the building with a perfect view of our parking lot.
Do you have parking?
There is parking available on Ahrens. Both in the lot adjacent to the building (access off Ahrens) as well as street parking! There is also street parking available on Wellington.