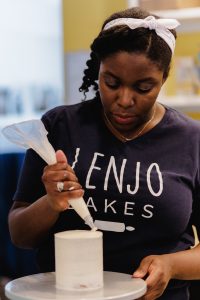 LenJo Bakes specializes in designing and crafting beautifully bespoke cakes for all special occasions in and around the Kitchener Waterloo region.
Our founder, Lenore, spent years abroad in France, England, and New Zealand to broaden her horizons, improved her palette, and deepen her appreciation of celebrating and sharing our love with others.
Working in 5-star luxury hotels and a Michelin-starred restaurant taught her almost everything she would ever need to know about hard work and maintaining a high standard of excellence.
Our retail shop in Midtown Kitchener is open Wednesday to Saturday for an ever-changing menu of cinnamon rolls, cookies, brownies, macarons, and verrines. Don't miss focaccia pizza on Thursdays or breakfast pies on Saturdays!
Be sure to check Google for up to date hours!
Our café in the village of St. Jacobs, The Shed, is open Wednesday to Sunday with a vast beverage menu, a rotating menu of our baked goods, and our take on the Danish open-faced sandwich better known as smørrebrød. Best part? Our super cozy basement lounge where you can relax after perusing boutiques or meet with friends for a catch-up. Be sure to check Google for up to date hours!
You can order online for pick up of some of our more popular items from our online shop for pick up from both locations too!
We pride ourselves on using ingredients of exceptional quality from local suppliers.
From weddings to birthdays, anniversaries to Tuesdays – we're here to help you celebrate each one of life's incredible milestones.
What does that mean for you?
It means we won't stop working until we feel we've achieved our best!
Exceptional ingredients + experience to design and create something stunning = excellence with every cake, cupcake, cookie, or square that leaves our kitchen.
If you're looking for sweet treats that don't require you to compromise on flavour, find out more about ordering with us!